(Mostly) Free Video Editing
Programs & Resources
​

iMovie

- A free editing software available on iphones and Mac computers. Great for beginners and for making simple quick edits. There is a text, animation and sound package included.
​

WeVideo

- A free editing app available on phones, PC and Mac computers. This program is cloud based. You shoot video on your phone and upload the footage into your WeVideo App. When you open the project on your computer it is there waiting for you. Does not have reverse or a proper cropping tool. Upgrade option available.
​

CapCut

- A free editing app available on phones, PC and Mac computers. Great for editing on the run. If you like fan edits this program is loaded with great animated text and powerful preset transitions making beginners look like pros.
DaVinci Resolve

- Is a free editing program. This is a professional level program. The cool part is the option to make the interface look like Final Cut or Premiere. There is a learning curve to the program but it is free. Also known for its color grading capabilities.
Film and Television Lessons
After Effects

- Is

NOT

a free editing program. This is a professional level program. It can work with Premiere Pro via "Dynamic Link" as well as with other Adobe programs. The user interface is extremely complicated and you will need tutorials to navigate the program. Also, you should go in with a plan of what effect you would like to try, then practice executing that effect.
Scripts, Storyboards, Writing, Camera, Shots, Lessons, Editing Exercises and Film Projects.
Screengoat builds your skills as a filmmaker with tools and resources to help you become a GOAT.
Animoto

- Is

a free editing program but is more like an animated PowerPoint program. This is what we love about it. You can create animated title graphics over chroma key green or animated backgrounds for titles or bumpers in seconds. Super easy to use. The program leaves a watermark but it is easy to crop out. The program also has a lot of public domain images and music. Kicks Presentation up a knotch.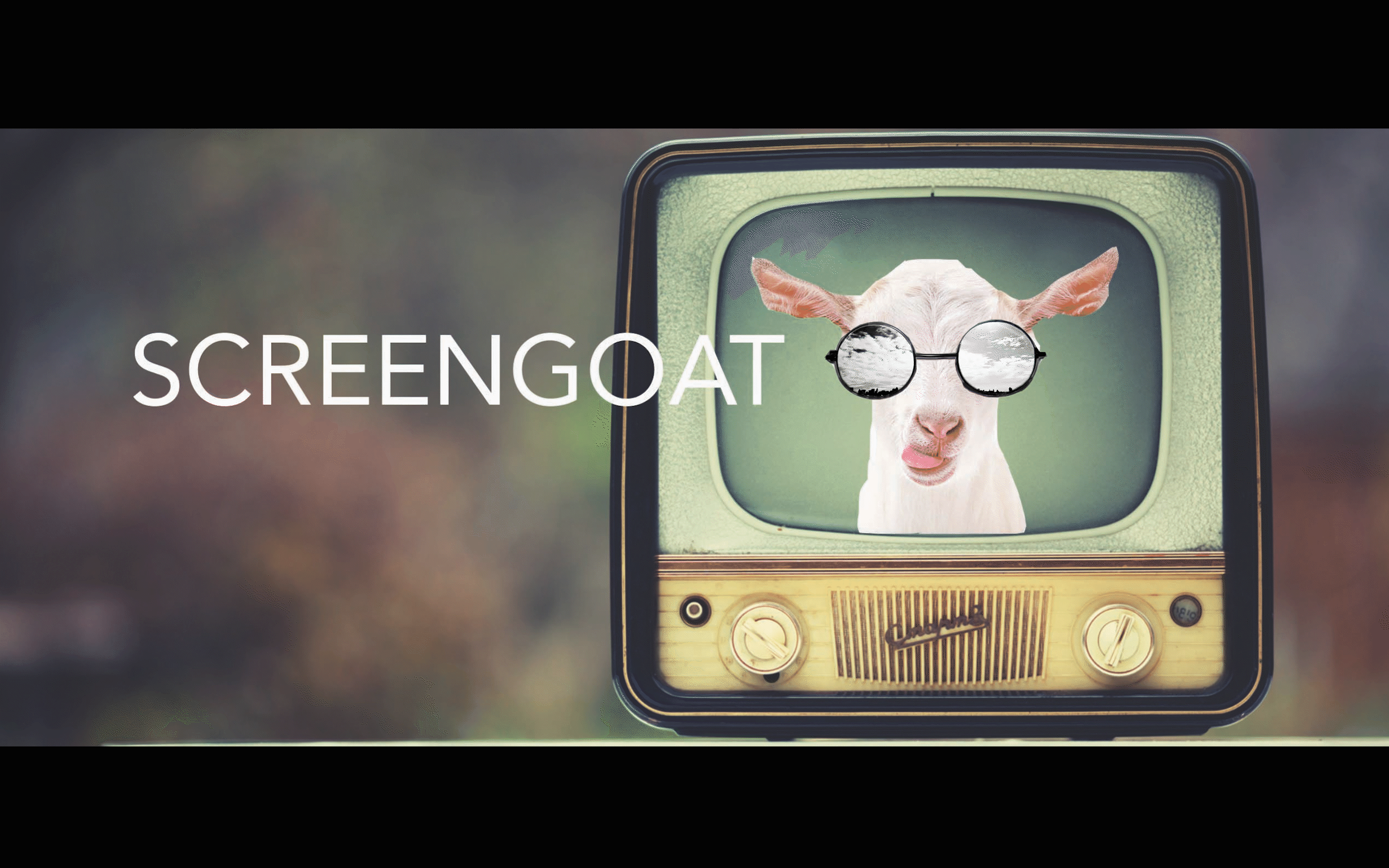 ​

YouTube

- YouTube is a free American online video sharing and social media platform. It was launched in 2005 and is now owned by Google. It is the second most visited website, right after Google itself. YouTube has more than one billion monthly users who collectively watch more than one billion hours of videos each day. As of May 2019, videos were being uploaded at a rate of more than 500 hours of content per minute.
​

TikTok

- TikTok is a video-focused social networking service owned by Chinese company ByteDance Ltd. It hosts a variety of short-form user videos, from genres like pranks, stunts, tricks, jokes, dance, and entertainment with durations from 15 seconds to ten minutes. TikTok was launched in 2017 for iOS and Android in most markets outside of mainland China; however, it became available worldwide only after merging with another Chinese social media service, Musical.ly, on 2 August 2018.Cloudflare ranked TikTok as the most popular website of 2021, surpassing Google.
​

Instagram

- Instagram is an American photo and video sharing social networking service founded in 2010 and later acquired by Facebook Inc. The app allows users to use filters and organize posts with hashtags and geographical tagging. Instagram was originally distinguished by allowing content to be framed only in a square (1:1) aspect ratio of 640 pixels to match the display width of the iPhone at the time. In 2015, this restriction was eased with an increase to 1080 pixels. It also added messaging features, the ability to include multiple images or videos in a single post, and a Stories feature. Currently there are over 1 billion users. Instagram has also been criticized for negatively affecting teens' mental health.
​

Facebook

- Facebook is an American online social media and social networking service owned by Meta Platforms. Founded in 2004, as of 2020, Facebook claimed 2.8 billion monthly active users, and ranked fourth in global internet usage. The subject of numerous controversies, Facebook has often been criticized over issues such as user privacy, political manipulation, mass surveillance, psychological effects such as addiction and low self-esteem, and content such as fake news, conspiracy theories, copyright infringement, and hate speech.




​

Twitter

- Twitter is an American microblogging and social networking service on which users post and interact with messages known as "tweets". Registered users can post, like, and retweet tweets, however, unregistered users have the ability to only read tweets that are publicly available. Twitter was created in March 2006. By the start of 2019, Twitter had more than 330 million monthly active users. On April 25, 2022, the Twitter board of directors agreed to a $44 billion buyout by Elon Musk, the CEO of SpaceX and Tesla, potentially making it one of the biggest deals to turn a company private.